11-11-2021, 01:57 PM
WE6FE

NAPOLI patch v.1

PS2
The patch
insert NAPOLI Club in WE6FE
(
Chievo

bye bye
:-) ).
add personalized chants, stadium banner (thanks to Babayoko) and "new" San Paolo Stadium :-) 
(fix WEDOIT Spartak goalkepeer "phantom" bug too).
Chievo Team
Napoli Team
patch per
WEDOIT Club Edition
Winning Eleven 6 FE - NAPOLI patch v.1
----------------------------------
by
ERIOL
versione 1.0 - 1/03/03
Ho pensato questa patch per tutti i tifosi del Napoli che non avevano più la loro squadra in WE da tantissimo tempo... purtroppo :-(   
La patch inserisce il Napoli fra le le squadre di club di WE6FE, più precisamente dopo averla installata avrete:
- Il Napoli, con maglie, bandiere, call name, colori ecc. (viene sostituito il Chievo/Fiorentina)
- rosa completa di 26 giocatori (con caratteristiche, aspetto ecc. aggiornate)
- 8 cori dei tifosi partenopei
- nuovi cartelloni pubblicitari
- ....lo Stadio San Paolo! :-) (dateci un occhiata nei Replay)
- se applicate la patch alla WE&FE già patchato WEDOIT 1.0 corregge il problema del portiere trasparente dello Spartak Mosca.
-------
COSA TROVATE NEL FILE ZIP
-
NAPOLI1.PPF
è la patch da applicare con il PPF3
-
PPF-o-matic3.EXE
vi serve per applicare la patch al file BIN
-
NAPOLI.XLS
file excel con tutte le informazioni statistiche relative al Napoli (già inserite nella patch)
-
LEGGIMI.TXT
questo file
-
README.TXT
brevi note in inglese
Cover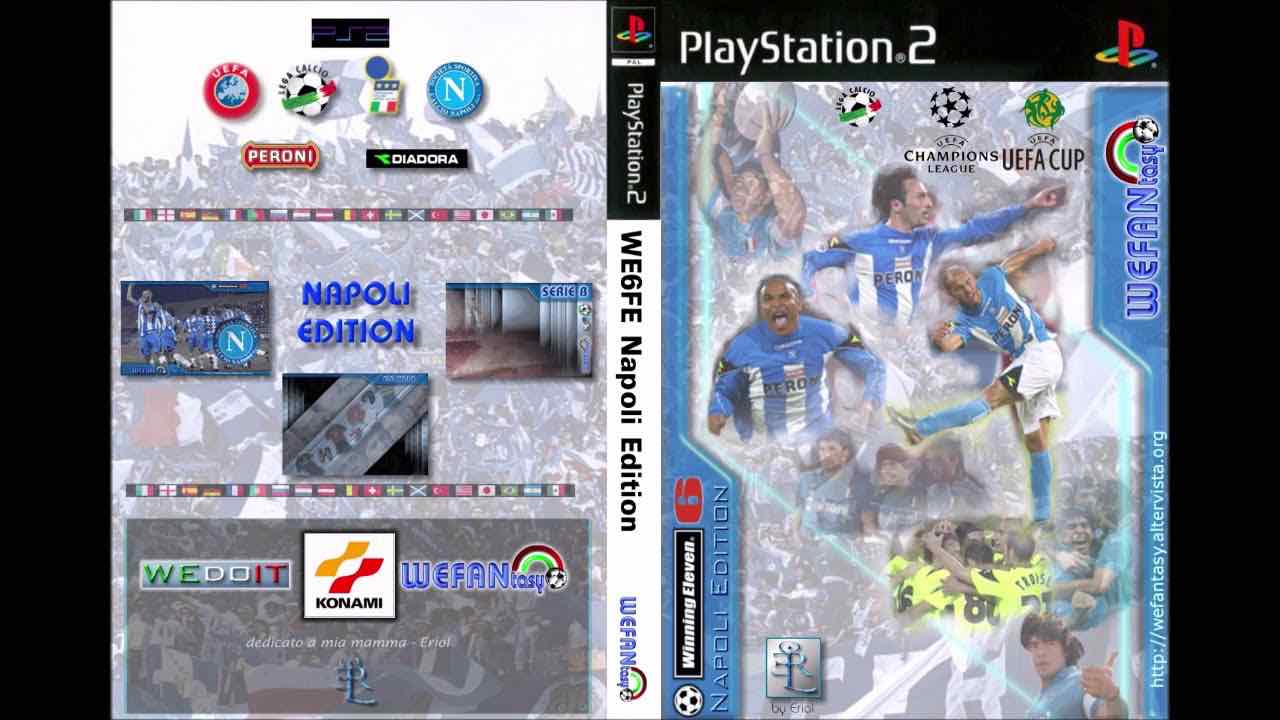 -------
NOTE
- La maglia del Napoli ha il logo al centro e non può usare pertanto il sistema usato dalla Konami per i Logo (logo sulla sinistra), per risolvere il problema il logo è stato disegnato direttamente sulla maglia, ed è stata usata una palette particolare in modo da rendere il logo "standard" trasparente, questo purtroppo rende invisibile in alcuni menù la bandiera del Napoli... finora non si può risolvere diversamente, sorry.
- Dopo aver applicato la patch bisogna caricare WE6FE senza il file opzioni (staccate la memory card dalla PS2), altrimenti vi ritroverete i dati dei giocatori del Napoli (nomi, caratteristiche ecc.) sbagliati, insomma purtroppo bisogna ricominciare daccapo... (come con tutte le patch che modificano i dati dei giocatori)
- Per ascoltare i cori, ovviamente prima dovete sbloccare il call name della squadra vincendo la coppa Konami con una squadra di club, poi, nelle partite, occorre impostare il tifo su Derby o Complete (per provarli suggerisco di impostare una partita Napoli contro Napoli).
-------
APPLICAZIONE
ATTENZIONE
:
La patch usa una tecnica particolare per gestire file di grandezza diversa dall'originale e cioè "rigenera" il FILEDATA.AFS (è stato necessario per i cori e per il problema del logo di cui sopra), però NON CAMBIA la grandezza del FILEDATA.AFS (solo lo spazio riservato ad alcuni file), per cui:
- è COMPATIBILE con altre patch che usano la stessa tecnica (al momento non so se ci sono) o con le patch che non rigenerano il FILEDATA.AFS (WEDOIT)
- è invece INCOMPATIBILE con le patch che modificano le dimensioni del FILEDATA.AFS (Solidus, Nation, ecc.)
La patch va idealmente applicata su WE6FE già patchato con la WEDOIT 1.0:
- Estraete l'immagine BIN di WE6FE utilizzando CDRWIN
- Applicate il file NAPOLI1.PPF tramite PPF-o-matic3 (incluso nello zip) al BIN di WE6FE
- Registrate il nuovo BIN patchato su CD tramite NERO (Menu file/Scrivi immagine, Disk at Once come opzione) o tramite CDRWIN.
  Download 
  --->
NAPOLI patch v.1 for PS2
-------
RINGRAZIAMENTI
A BABAYOKO per gli ottimi cartelloni, a CHILAVERT per tutto il lavoro svolto sulle "statistiche" del Napoli, per la collaborazione "sportiva" in generale e sull'incitazione... se non era per lui non avrei neanche iniziato la patch :-),  un grazie anche a MASSUD per la collaborazione sulle statistiche.
Infine ai WEDOIT e Rh4psOdY per il lavoro eccezionale che fanno, ai WE DO EVOLUTION per gli INDISPENSABILI tool che hanno realizzato, ad Haplo per il suo editor, e.... a tutti quelli che si divertiranno con la patch :-)
Eriol
http://wefantasy.altervista.org/
Winning Eleven 6 - Pro Evolution Soccer 2

(PSX,PS2,Gamecube)
Pro Evolution Soccer 2 (Winning Eleven 6 en su versión japonesa) es el segundo título de la saga. Fue el último título de la serie que se lanzó en Europa para PlayStation. Los clubes continuaron sin licencia, y algunos jugadores seguían sin sus nombres reales. Por ejemplo Navarra es el equipo del Real Madrid y Naldorinho es Ronaldinho. Su intro del juego es considerado de culto por los fanes, debido a la canción We Will Rock you del grupo Queen.
Winning Eleven

& ProEvolutionSoccer &

FIFA EA Sports

|Option Files|
|
We11World
|
Winning Eleven Games
|
Download ISOS, Parches
|
Index Kits, Tex, Graficos
|